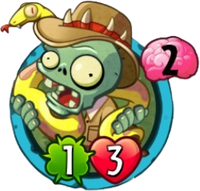 Zookeeper

Statistics
Strength
Health
Cost
2
2
2
Set
Basic
Rarity
Common
Class
Tribe
Pet Zombie
Abilities
When you play another Pet, all Pets get +1.
Snaaaaake!
Zookeeper is a basic common zombie card in Plants vs. Zombies Heroes, and a member of the

Beastly class. He costs 2

to play, and has 2
/2

. His ability gives all pet zombies +1
every time a pet is played. This ability persists until all Zookeepers are removed from the field.
Statistics
Class: Beastly
Tribe: Pet Zombie
Ability: When you play another Pet, all Pets get +1.
Set - Rarity: Basic - Common
Card description
Snaaaaake!
Strategies
With
When using this zombie, boost his health as many as you can, as he can survive longer, then play as many pets as you can. Zookeeper will increase the strength for all pet zombies, causing absolute destruction to the enemies. Occasionally, Super Brainz, Professor Brainstorm, or Rustbolt may be able to obtain this from Portal Technician, Summoning or Eureka. In that case, he is less effective since the only pet zombies in classes other than Brainy and Beastly are:
Sneaky: Zombie Chicken, Fishy Imp, Walrus Rider, Zombot Sharktronic Sub (Brain Freeze Only)
Crazy: Abracadaver, The Chickening (Electric Boogaloo Only)
Hearty: Camel Crossing, Turkey Rider (The Smash only)
Brainy: Witch's Familiar, Zom-Bats (Immorticia Only)
There are also many tricks and superpowers that are pet-based, such as Locust Swarm and Dolphinado. Use these to the advantage during the trick phase.
Against
His ability is really dangerous, so you have to try to destroy it quickly. Due to him has just two health, you can destroy this card pretty easily. If he is played in the second turn, he can not be boosted, so you can attack him without having to be aware of him and other pet zombies receiving +1
.
Gallery
Old
Trivia
His card description may be a reference to the famous Konami franchise "Metal Gear Solid", where if the player gets a game over, the player can hear the catchphrase "Snaaaaake!"

His description might also reference the fact that he has a snake as his pet.

The Zookeeper has the shortest description in Plants vs. Zombies Heroes, only having 10 characters.
Ad blocker interference detected!
Wikia is a free-to-use site that makes money from advertising. We have a modified experience for viewers using ad blockers

Wikia is not accessible if you've made further modifications. Remove the custom ad blocker rule(s) and the page will load as expected.