This article is under construction and requires more content. You can help our wiki by
expanding it
.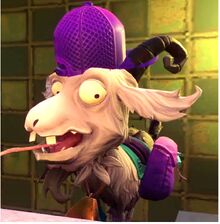 "

"Hi! Welcome to ZOMBURGER! You wanna deliver juicy Zomburgers? Ok, I make burger, you make delivery.. Oh you must be goat, it in contract!"

"

—Zomburger Artist
Zomburger Artist is a character in Plants vs. Zombies: Garden Warfare 2. It works at the Zomburger and is a playable character in the Delivery Quests released in the Trouble In Zombopolis: Part Two DLC. The player is required to race through various checkpoints in each quest in an effort to deliver burgers to the respective zombie that ordered them. Completing each quest rewards the player with coins which increase along with the difficulty as new delivery quests are unlocked. Upon completing the 10 quests given to the player, the long-awaited Delivery Badge will be awarded. Delivery Goat has one ability, the Warper Jr., which allows it to make a small dash forward to gain a temporary speed boost as well as to jump further if used in mid-air. It has a very fast recharge. Delivery Goat's primary weapon is Burg Bites, which it can use to take out plant pots that get in the way.
Abilities
Warper Jr.
Delivery Goat gains a temporary speed boost.
Gallery
Trivia
The ability "Warper Jr." is a pun on the word "Whopper Jr." which is a famous burger found in Burger King and Hungry Jacks joints. 
It can skid sometimes, which can be problematic when jumping off rooftops.
This is the only zombie character that has only one ability.
If the player looks closely, they can see a pink drinking straw hanging out of Zomburger Artist's mouth. Sometimes it appears to be its tongue.
Ad blocker interference detected!
Wikia is a free-to-use site that makes money from advertising. We have a modified experience for viewers using ad blockers

Wikia is not accessible if you've made further modifications. Remove the custom ad blocker rule(s) and the page will load as expected.