This article is under construction and requires more content. You can help our wiki by
expanding it
.
This subject currently has no proper strategy associated to it. If you have figured out a good strategy, please
add it
or the zombies will eat your brains!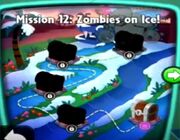 Zombies on Ice! is the eleventh mission for the plant side in Plants vs. Zombies Heroes. The main opposing zombie hero in this mission is Brain Freeze. This mission also features Neptuna and Immorticia as the opposing zombie heroes.
Plot
See Ice Zombie Cometh.
Levels
Encounter Battle
Zombies on Ice! - Encounter Battle
Game

Enemy
Nº of height lanes
Nº of water lanes
Brain Freeze
1
1
Previous
Next
<<<
>>>
Teammate Battle (I)
Zombies on Ice! - Teammate Battle (I)
Game

Enemy
Nº of height lanes
Nº of water lanes
Neptuna
1
1
Previous
Next
<<<
>>>
Mini-Boss Battle
Zombies on Ice! - Mini-Boss Battle
Game

Enemy
Nº of height lanes
Nº of water lanes
Brain Freeze
1
1
Previous
Next
<<<
>>>
Teammate Battle (II)
Zombies on Ice! - Teammate Battle (II)
Game

Enemy
Nº of height lanes
Nº of water lanes
Immorticia
1
1
Previous
Next
<<<
>>>
Boss Battle
Zombies on Ice! - Boss Battle
Game

Boss Mode
Brain Freeze starts with +5 and a .
Enemy
Nº of height lanes
Nº of water lanes
Brain Freeze
1
1
Previous
Next
<<<
>>>