Ad blocker interference detected!
Wikia is a free-to-use site that makes money from advertising. We have a modified experience for viewers using ad blockers

Wikia is not accessible if you've made further modifications. Remove the custom ad blocker rule(s) and the page will load as expected.

This article is under construction and requires more content. You can help our wiki by
expanding it
.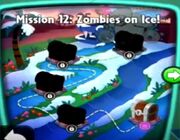 Zombies on Ice! is the twelfth mission for the plant side in Plants vs. Zombies Heroes. The main opposing zombie hero in this mission is Brain Freeze. This mission also features Neptuna and Immorticia as the opposing zombie heroes.
Levels
Encounter Battle
Zombies on Ice! - Encounter Battle
Game

Enemy
Nº of height lanes
Nº of water lanes
Brain Freeze
1
1
Previous
Next
<<<
>>>
Teammate Battle (I)
Zombies on Ice! - Teammate Battle (I)
Game

Enemy
Nº of height lanes
Nº of water lanes
Neptuna
1
1
Previous
Next
<<<
>>>
Mini-Boss Battle
Zombies on Ice! - Mini-Boss Battle
Game

Enemy
Nº of height lanes
Nº of water lanes
Brain Freeze
1
1
Previous
Next
<<<
>>>
Teammate Battle (II)
Zombies on Ice! - Teammate Battle (II)
Game

Enemy
Nº of height lanes
Nº of water lanes
Immorticia
1
1
Previous
Next
<<<
>>>
Boss Battle
Zombies on Ice! - Boss Battle
Game

Boss Mode
Brain Freeze starts with +5 and a .
Enemy
Nº of height lanes
Nº of water lanes
Brain Freeze
1
1
Previous
Next
<<<
>>>
Gallery