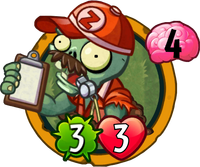 For the similar zombie in Plants vs. Zombies Adventures, see Coach Zombie.
Zombie Coach

Statistics
Strength
Health
Cost
2
3
4
Set
Premium
Rarity
Rare
Class
Tribe
Mustache Sports Zombie
Abilities
When played: All Sports Zombies can't be hurt this turn.
There is no "i" in Zombee!
Zombie Coach is a premium rare zombie card in Plants vs. Zombies Heroes, and a member of the

Hearty class. He costs 4

to play, and has 2

/3
. He does not have any traits, and his ability makes all sports zombies invulnerable, but only for the turn he is played.
Origins
He is based on the zombie in Plants vs. Zombies Adventures with a similar name and appearance.
Statistics
Class: Hearty
Tribes: Mustache Sports Zombie
Traits: None
Ability: When played: All Sports Zombies can't be hurt this turn.
Set - Rarity: Premium - Rare
Card description
There is no "i" in Zombee!
Update history
Update ????
Tribe order change: Sports Mustache → Mustache Sports
Strategies
With
It is best to use this card when there are multiple sports zombies on the field, otherwise, only he will be protected from damage.
A good combo with this zombie is the Team Mascot as they both provide some type of boost to sports zombies. Zombie Coach will protect the sports zombies from damage for a turn, while Team Mascot will boost them when the next turn starts.
Rustbolt can use Teleport on Zombie Coach during the tricks phase, which will protect all sports zombies and surprise the plant hero. Rustbolt can also use this with more zombies such as Pool Shark, Mountain Climber, and especially Brain Vendor, which he can easily swarm the field with due to its ability. Additionally, Neptuna can use In-Crypted on the Zombie Coach to replay his effect to protect all sports zombies before the combat phase.
Against
Avoid Bouncing this zombie, as that will make the zombie hero able to protect the sports zombies on the field for another turn. Instant-kill cards can be used to destroy the sports zombies, as they can still be destroyed by plants like Briar Rose and tricks like Lawnmower or Squash.
Gallery
Old
Trivia
His description is a reference to the phrase "There is no "i" in team!", with the word zombie intentionally misspelled due to the word actually containing the character "i".
If the player pays close attention, the animation that is played when he blows his whistle is different from the one he has in his mouth.