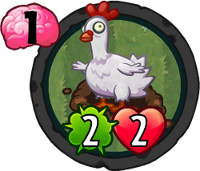 For other uses, see Zombie Chicken (disambiguation).
Zombie Chicken

Statistics
Strength
Health
Cost
2
2
1
Set
Premium
Rarity
Uncommon
Class
Tribe
Pet Zombie
Abilities
When a plant is played here, this moves to another random lane.
Question: What came first, the Chicken or the egg? Answer: The Zombie!
Zombie Chicken is a premium uncommon zombie card in Plants vs. Zombies Heroes, and a member of the
Sneaky class. It costs 1

to play, and has 2
/2

. It has no traits, and its ability moves it onto another random lane when a plant is played on the same lane as it.
Statistics
Class: Sneaky
Tribe: Pet Zombie
Traits: None
Ability: When a plant is played here, this moves to another random lane.
Set - Rarity: Premium - Uncommon
Card description
Question: What came first, the Chicken or the egg? Answer: The Zombie!
Strategies
With
Zombie Chicken's ability can be considered to be either a blessing or a curse. While that Zombie Chicken is likely to escape from incoming attacks unharmed and attack the hero directly, it also means that the plant hero is guaranteed a free lane to play whatever plant of their choice and not worry about retaliation. Because of this, Zombie Chicken could be considered a poor lead in the early game, when plant heroes are likely wanting to play plants such as Pea Pod and Sunflower. Using Vitamin Z is useful for Zombie Chicken as you may be able to do large damage to the plant hero. Consider use Zombie Chicken as the most offensive zombie to use.
Since this is a pet zombie, you can also save it for later to combine with Cat Lady or Zookeeper and buff strength for them.
Against
This is a difficult zombie to deal with, as it moves whenever a plant is planted in its lane, especially early game. Using multi-directional plants like Threepeater are great for disposing of this. Additionally, filling the lawn with plants can help as it will run to another lane with another plant. Using tricks can help too if the player cannot find a way to hit it directly. You can also prevent the Zombie Chicken from moving by playing Whipvine or Sweet Potato to prevent the Zombie Chicken from moving into random lanes. However, if you are playing Sweet Potato, be sure you play a plant first and then Sweet Potato to attract the Zombie Chicken so a plant can be able to destroy the Zombie Chicken. You can also use the ability to your advantage via Anti-Hero plants, as the Zombie Chicken will move away from the plant, allowing you to heavily hit the hero.
Gallery
Old
Trivia
Its description references the rhetorical question "What came first, the chicken or the egg?".
Its special ability is the exact opposite of the Dog Walker's special ability.

Coincidentally, both cost 1 to play, both have 2/2 when first played and both are in the pet tribe.
However, both are in different classes.

In Plants vs. Zombies 2, this zombie is the weakest zombie in the game, while in this game, it is stronger than a normal Zombie.

This is why Lightning Reed cannot destroy a Zombie Chicken in 1 hit, especially Splash Damage.

It and Rodeo Gargantuar is the only Wild West zombies to be featured in Plants vs. Zombies Heroes.

However, B-flat is based on the Pianist Zombie, a zombie featured in the aforementioned time period.
Ad blocker interference detected!
Wikia is a free-to-use site that makes money from advertising. We have a modified experience for viewers using ad blockers

Wikia is not accessible if you've made further modifications. Remove the custom ad blocker rule(s) and the page will load as expected.