For other uses, see zombies.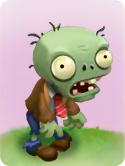 Zombie

He's just your regular garden-variety zombie.

Toughness
Low
First appears
The Boonies Level 1
Cost of neighbor attack
200 coins
Training cost
25 coins
Training time
One minute



Zombie is a zombie in Plants vs. Zombies Adventures. Zombie once again is the first zombie that the player meets. It is the weakest zombie in the game, as four peas can defeat it. It appears in every level in The Boonies to Frostbite Falls, but does not appear in the later Road Trip levels.
Overview
The Zombie absorbs 4 normal damage shots; its appearance changes upon an absorption of 3 normal damage shots when its arm falls off, before being defeated when its head falls off upon an absorption of 4 normal damage shots.
Encounters
Gallery