For other uses, see zombies.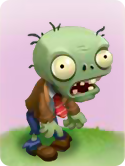 Zombie was a zombie in Plants vs. Zombies Adventures. Zombie once again was the first zombie that the player meets. He was the weakest zombie in the game, as four peas could defeat him. He appeared in every level in The Boonies to Frostbite Falls, but did not appear in the later Road Trip levels.
Overview
The Zombie absorbed 4 normal damage shots; his appearance changed upon an absorption of 3 normal damage shots when his arm fell off, before being defeated when his head fell off upon an absorption of 4 normal damage shots.
Encounters
Gallery