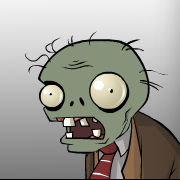 Not to be confused with Talking Zombatar, a cancelled Plants vs. Zombies game with a similar name.
Zombatar is a feature available in multiple sectors of Plants vs. Zombies paraphernalia. It allows the customization of a personalized zombie through decoration using various ornaments. The Zombatar is available on the Plants vs. Zombies Official Website and the Game of the Year, Nintendo DS, and PlayStation Vita versions of Plants vs. Zombies.
In the
Game of the Year Version
, PC and
PlayStation Vita versions
of
Plants vs. Zombies
, the Zombatar will replace the
Flag Zombie
during the arrival of huge waves. Keep in mind that the default 
Flag Zombies
will not appear at all, unless the player makes the Zombatar to look like one or there is no made Zombatar. If the player makes multiple Zombatars, one of them will be randomly decided to appear at each flag.
In the Nintendo DS version of Plants vs. Zombies, the Zombatar is used in Versus Mode to identify the winning player.
The official website suggests using Zombatars for a Facebook profile picture, a Twitter profile picture, a Steam profile picture, or to scare one's mom.
Changeable parts
Hairstyle - the hair the zombie has
Clothes - the clothes the zombie wears
Facial Hair - the zombie's facial hair design
Tidbits - eye-related accessories such as eyebrows
Eyewear - whether or not the zombie wears glasses
Skin Color - the color of the zombie's skin (doesn't change in gameplay)
Accessories - any extra facial accessories
Backdrop
Note that the skin color and clothes appear like a normal Zombie's in-game.
Gallery
Plants vs. Zombies Wiki
has a
gallery
for Zombatar.
Trivia
The word "Zombatar" is a portmanteau of "zombie" and "avatar."
The PlayStation Vita version of Plants vs. Zombies has a glitch that Zombatars cannot be deleted. Instead, it says "Missing action/prompt/delete". This was fixed in the 1.02 update. It still works if the player turns off Touchscreen controls.
There is a glitch that causes the Zombatar's clothes option to become a spike collar (an accessory). With this, the avatar appears to have two accessories, the spike collar and any other accessory. In-game, however, there is only one accessory (the one chosen in the accessory field).
When a Zombatar is made, regular Flag Zombies will not appear (unless there is one made by the player).
Since Flag Zombies do not appear on the seed selection screen, the Zombatars do not appear either.
In the online version of the Zombatar, there are much more accessories.