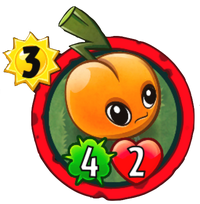 Zapricot is a basic common plant card in Plants vs. Zombies Heroes and a member of the

Kabloom class. It costs 3

to play and has 4

/2

. It does not have any traits or abilities. 
Origins
It is based on an apricot, a fruit in the genus Prunus.
Its name is a portmanteau of "zap," referring to the fact that it attacks with electricity, and "apricot," the real-life plant it is based on.
Its description makes a pun about the word "shocked," as it means both "surprised" and "zapped with electricity."
Statistics
Class: Kabloom
Tribe: Fruit Plant
Traits: None
Abilities: None
Set - Rarity: Basic - Common
Card description
"Some say that Zombies aren't easily shocked. I beg to differ."
Update history
Update 1.8.23
Description change: Was originally "Some say that Zombies aren't easily shocked. I beg to disagree."
Strategies
With
Zapricot has similar stats to Fire Peashooter, except Zapricot has 1 more strength, costs 1 more sun, and is in the Kabloom class. However, unlike Fire Peashooter, it is not a pea plant, meaning it cannot be used with Torchwood nor The Podfather. In fact, there are no cards that specifically benefit or synergize with fruit plants. If you are playing as Captain Combustible, Fire Peashooter is a better choice if you're planning to put the previously said boosting plants in your deck.
Since it has a high base strength, you can boost its stats for it to become stronger or make it do bonus attacks with tricks such as Plant Food or Fertilize.
It can destroy some threatening zombies like Drum Major, Mountain Climber, Smelly Zombie, Foot Soldier Zombie, etc., although it can easily be destroyed by the zombies if not boosted. 
Against
Zapricot hits very hard and can destroy or badly damage any zombie that can come on turn 3. Fortunately though, it does not have much health. You can sacrifice a weak zombie or use a cheap trick to destroy it easily, such as Bungee Plumber. If it really threatens you, you can use Rocket Science on it, but this is not recommended unless it is going to defeat you and you have run out of other options.
Gallery
Old
Trivia