This article is under construction and requires more content. You can help our wiki by
expanding it
.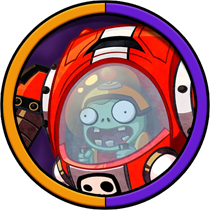 For the version in Plants vs. Zombies: Garden Warfare 2, see Imp (PvZ: GW2).
Z-Mech

Classes
, 
Signature Superpower
Missile Madness
Other Superpowers
Dance Off
Rock Wall
Brute Strength
Once watched giant mecha anime for 12 hours straight.
Z-Mech is a zombie hero in Plants vs. Zombies Heroes. Z-Mech leads

Hearty and

Crazy zombie cards against the plants. Z-Mech's signature superpower is Missile Madness. It allows him to attack for 2 damage in three random lanes of any kind. Targeted lanes with no plants in the lane will result in damage being done directly to the plant hero.
Statistics
Superpowers:

Signature: Missile Madness - Attack for 2 damage in three random lanes.
Other:

Boss Fights:
Hero description
Once watched giant mecha anime for 12 hours straight.
Strategies
Z-Mech's Crazy and Hearty classes synergize really well with each other. For an example, Armored or Can't Be Hurt zombies can nullify Fireworks Zombie and Barrel of Deadbeards' ability, allowing the former two to damage plants without a single hit on the zombies. While Crazy zombies tend to have lots of strength but lack in health, Hearty tricks like Rock Wall and Camel Crossing allows them to survive longer while hitting equally hard. Similarly, Z-Mech can use strength-boosting cards to boost

Armored zombies, turning them into ironclad tanks.
A dancing deck with health-boosting tricks, or a sports deck with strength-boosting tricks is ideal, although the latter depends less on boosting tricks since Team Mascot is present. Z-Mech's Missile Madness also allows you to either dish out 6 damage to the hero on the first turn, or hurt and destroy many plants at once.
However, Z-Mech has a drawback, and that is the hard way of dealing with tough plants. Z-Mech does not have access to cards such as Rocket Science, Cut Down to Size, or Locust Swarm. In addition, he does not have any Deadly zombies. This makes it really hard for Z-Mech to deal with Mega-grow heroes. The only method is to fight fire with fire and beat them with tough zombies.
Gallery
Plants vs. Zombies Wiki
has a
gallery
for Z-Mech.
Trivia

Z-Mech's comic illustrates him using Rocket Science missiles to attack the plants. This is not possible in-game, as Rocket Science is of the Brainy type.
During the Z-Mech's idle animation, its Imp sometimes breathes into the Z-Mech's window, and the player can see an "evil" face on it.

This face was originally a sad face.