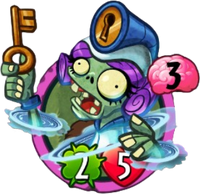 Wormhole Gatekeeper

Statistics
Strength
Health
Cost
2
5
3
Set
Galactic
Rarity
Super-rare
Class
Tribe
History Science Zombie
Traits
Bullseye
Abilities
Each player draws an extra card each turn.
"Stand here and guard this gate with your unlife," she was told. And that's what she's been doing ever since.
Wormhole Gatekeeper is a galactic super-rare zombie card in Plants vs. Zombies Heroes, and a member of the

Brainy class. She costs 3

to play, and has 2

/5

. She has the

Bullseye trait, and her ability gives both the plant and zombie hero a card at the start of every turn, starting from the next turn after she is played.
Origins
She is based on a gatekeeper, a person who controls access to something.
Her name is a portmanteau of "wormhole" and "gatekeeper," referring to her appearance.
Statistics
Class: Brainy
Tribes: History Science Zombie
Trait: Bullseye
Ability: Each player draws an extra card each turn.
Set - Rarity: Galactic - Super-Rare
Card description
"Stand here and guard this gate with your unlife," she was told. And that's what she's been doing ever since.
Update history
Update 1.16.10
Strategies
With
This zombie can be risky to play as both you and your opponent will draw an extra card each turn if she manages to stay alive. While this helps you when you are short of cards or to keep up with the cards in your hand, your opponent will also potentially have more choices on their strategy. However, the tight part is that this zombie has

Bullseye, so the opponent has to think carefully whether to destroy her or not due to her helpful ability for both players. But overall, you can get two cards each turn or more with multiple Wormhole Gatekeepers on the field, adding more choices to your strategy.
Super Brainz has some great strategies with her, since he can use her in tandem with support cards like Pogo Bouncer and Regifting Zombie. Zombies like these have the ability to give cards to the plant hero, which can form a mill deck.
However, if you see Bananasaurus Rex on the field, avoid playing this zombie as Bananasaurus Rex will get +2

/+2

every turn.
Against
This zombie can be situational as you can get an extra card each turn in exchange for unblockable damage. But if you are very low on cards and/or have very high health for your hero, it is alright to keep her alive, as long as the zombie hero does not bother boosting her strength.
But if you want to avoid unblockable damage and keep her alive to draw more cards for your hero, play plants with very high health like Wall-Nut to stall her. Alternatively, lower her strength with tricks like Scorched Earth or Water Balloons to make her less of a threat. However, don't forget that the zombie hero will also draw additional cards, so if you want to stop the zombie hero from drawing more cards, aim at destroying her with Whack-a-Zombie or using Banana Bomb and Berry Blast to destroy her.
Having Bananasaurus Rex on board can actually help greatly if this zombie is on the board as it can get a bigger boost at the end of every turn.
Gallery
Trivia
Her description is a joke on the popular quote "Stay here and guard this with your life."