Not to be confused with Wizard Zombie from Plants vs. Zombies 2.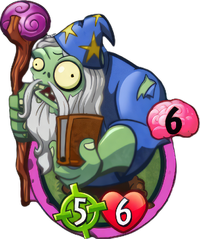 Wizard Gargantuar

Statistics
Strength
Health
Cost
6
7
6
Set
Premium
Rarity
Rare
Class
Tribe
Mustache Gargantuar Zombie
Abilities
All Gargantuars have Bullseye.
A wizard did it. An enormous, green, Zombie wizard.
Wizard Gargantuar is a premium rare zombie card in Plants vs. Zombies Heroes, and a member of the

Brainy class. He costs 6

to play, and has 6
/7

. He has no traits, and his ability gives all Gargantuar zombies on the field the

Bullseye trait, including him. This ability persists until all Wizard Gargantuars are removed from the field.
Origins
His name and appearance are based on Gargantuar and Wizard Zombie.
Statistics
Class: Brainy
Tribes: Mustache Gargantuar Zombie
Traits: None
Ability: All Gargantuars have Bullseye.
Set - Rarity: Premium - Rare
Card description
A wizard did it. An enormous, green, Zombie wizard.
Update history
Update 1.2.11
Set - Rarity change: Basic - Uncommon → Premium - Rare
Strategies
With
By himself, this is a powerful zombie. Immorticia has the best usage of out this, as she has access to many Gargantuars from the

Beastly class. This zombie along with the Smashing Gargantuar or Gargologist make an extremely powerful combo, as they allow all Gargantuars on the field to destroy multiple plants on the field or allow more Gargantuars to swarm the field quickly, as well as doing a great amount of damage to the plant heroes without leaving them a chance to block the attacks. Deep Sea Gargantuar can do some serious damage if used in the water lane, as there are usually no Amphibious plants in the water lane. Since this is a Brainy zombie, using this with Teleport during trick phase can guarantee 6 damage to the plant hero, as long as there's an empty lane.
Against
This zombie is a huge threat, as he has great stats and only costs 6

. Getting rid of it should be the top priority. Using instant kill tricks such as Doom-Shroom or Squash will easily get rid of it. Take note Doom-Shroom can also defeat your plants, so take caution. Using powerful plants early is the alternative way. Stalling this zombie is also a method of dealing with him, but not for long. Use Guacodile to do a guaranteed 8 damage on it, as long as the opponent is unable to move it.
Gallery
Old
Trivia
His description is a reference to the trope "A Wizard Did It".
He is the only Gargantuar zombie in the Brainy class.
Ad blocker interference detected!
Wikia is a free-to-use site that makes money from advertising. We have a modified experience for viewers using ad blockers

Wikia is not accessible if you've made further modifications. Remove the custom ad blocker rule(s) and the page will load as expected.