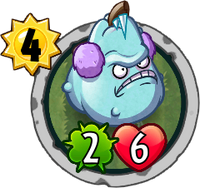 For more uses, see Squash (disambiguation).
Winter Squash

Statistics
Strength
Health
Cost
2
6
4
Set
Premium
Rarity
Rare
Class
Tribe
Squash Plant
Abilities
When a Zombie becomes frozen, destroy that Zombie.
"My complexion is more of a summer."
Winter Squash is a premium rare plant card appearing in Plants vs. Zombies Heroes and a member of the

Smarty plants. It costs 4
and has 2
/6

when first played. Its effect destroys any zombie that becomes

frozen.
Origins
Winter Squash is based on the fruit winter squash. Its name is a pun on "winter" and "winter squash," the fruit it is based on.
Statistics
Class: Smarty Plant
Tribe: Squash Plant
Abilities: When a Zombie becomes frozen, destroy that Zombie.
Set - Rarity: Premium - Rare
Card description
"My complexion is more of a summer."
Update history
Version 1.2.11
Set - Rarity change: Premium - Uncommon to Premium - Rare.
Strategies
With
Winter Squash is not only a bulky plant, but it gives the player instant-kills through the use of cards that allow you to

Freeze zombies. It is a very vital addition to a Snowdrop-freeze deck, as it allows removal of zombie fighters, only at a cheap cost.
It is recommended to have freezing tricks or plants in your deck to use with Winter Squash. Without freezing plants, this plant will not be as powerful as you thought. You may want to hold the Winter Squash and a freezing trick or plant for a really strong zombie. That way, you can destroy it with ease. After you place this plant, it might be good to try and protect it if possible. You could also pair this with Snowdrop for a really powerful combo. Pairing this with Iceberg Lettuce is also a good idea. With Winter Melon's Splash Damage 4 trait, including its effect to freeze any zombie it damages, will allow Winter Squash to destroy up to three zombie fighters at a time.
Against
This is one tough plant to end, especially if your adversary has a freeze dedicated deck. However fear not, as it is not invincible, due to weak strength stats, you have access to a few things to end it. Zombies with the Deadly trait (especially ones with over 3 health) can end it quickly, due to them destroying plants instantly, ignoring their health.
Several tricks are really handy against this, for example, Rolling Stone. Remember, do it quick before it destroys one of your strong zombies, otherwise you may lose a really powerful one. As a last resort, the player can use Locust Swarm to instantly destroy it.
Gallery
Old
Trivia
It is one of three plants to have the word "winter" in their name, the others being Winter Melon and Winter Melon from Plants vs. Zombies Online.
It is one of two plant cards that has the ability to destroy zombies that is not in the Solar tribe, the other being Doom-Shroom.
It shivers all the time, most likely because it is cold.
This plant closely resembles the Squash, and could be an ice version of it.

However, the Winter Squash doesn't squash zombies, it attacks like regular plants.