Ad blocker interference detected!
Wikia is a free-to-use site that makes money from advertising. We have a modified experience for viewers using ad blockers

Wikia is not accessible if you've made further modifications. Remove the custom ad blocker rule(s) and the page will load as expected.

For the international version of this level, see Wild West - Day 14.
For the version of the level after the v1.8 update, see Wild West - Day 8 (Chinese version).
Wild West - Day 8 is the eighth level of Wild West in the Chinese version of Plants vs. Zombies 2. When this level is finished for the first time, the player earns a Split Pea Puzzle Piece.
Difficulty
Strategies
Suggested plants
Do what you need to do first. Kill the first zombies with Potato Mines.
Plant Bloomerangs on the mine carts early on so you can deal damage in multiple rows.
Plant Wall-nuts along the seventh row.
Move the minecarts. Plant Spikeweeds along rows eight and nine to deal quick damage to the Zombie Chickens.
Don't forget to utilize Plant Food.
Gallery
Walkthrough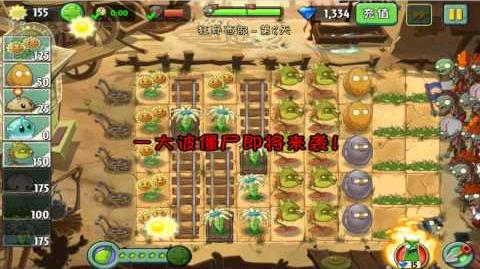 * A gate can be unlocked with a key after completing this level
^ Conjectural name