Ad blocker interference detected!
Wikia is a free-to-use site that makes money from advertising. We have a modified experience for viewers using ad blockers

Wikia is not accessible if you've made further modifications. Remove the custom ad blocker rule(s) and the page will load as expected.

For the international version of the level, see Wild West - Day 10.
For the version of the level after the v1.8 update, see Wild West - Day 6 (Chinese version).
"

Try the new arrival, Lightning Reed, his shocking electricity is well-suited in frying chickens.

"

—Crazy Dave
Wild West - Day 6 is the sixth level of Wild West in the Chinese version of Plants vs. Zombies 2. this level introduces Chicken Wrangler Zombie and Zombie Chicken. This is the first level with level 2 Zombies. When this level is finished for the first time, the player earns a Chili Bean Puzzle Piece and 58 diamonds.
Dialogue (Mid-game)
(Crazy Dave appears)
Crazy Dave: There are some Chicken Wrangler Zombies ahead, whose will throw out a big wave of chickens when they die, rushing at your defenses.
Crazy Dave: Try the new arrival, Lightning Reed, his shocking electricity is well-suited in frying chickens.
(Crazy Dave leaves)
Difficulty
The Chicken Wrangler Zombie has the toughness of a Basic Zombie, but it can release many Zombie Chickens - zombies that are very weak, but are the fastest zombies in the game and can be devastating in groups.
Lightning Reed, Spikeweed, Spikerock, or any fast-attacking plant is recommended to deal with the Zombie Chickens. However, the Lightning Reed is the best choice, since it will kill multiple chickens with one attack.
Strategies
Suggested plants
Do what you need first. Kill the first zombies with Potato Mines. Plant at least one Spikeweed in every row before the Chicken Wrangler Zombie comes.
Plant the Bloomerangs on the left minecarts. Plant a Snapdragon on the other one.
Plant more offensive plants in the blanks between the minecarts.
Don't forget to upgrade your plants before playing this level.
Gallery
Walkthroughs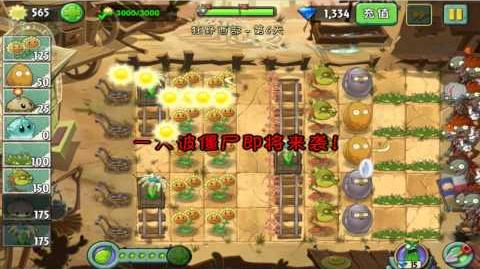 * A gate can be unlocked with a key after completing this level
^ Conjectural name