For the international version of the level, see Wild West - Day 3.
For the version of the level after the v1.8 update, see Wild West - Day 3 (Chinese version).
"

Try the new arrival, Spikerock, planting them under Pianist Zombies will eliminate them easily.

"

—Crazy Dave
Wild West - Day 3 was the third level of Wild West in the Chinese version of Plants vs. Zombies 2. The Pianist Zombie was introduced in this level, which had the ability to make Cowboy Zombies, Conehead Cowboy Zombies and Buckethead Cowboy Zombies switch lanes. When this level was finished for the first time, the player earned a Squash Puzzle Piece and 20,000 coins.
Dialogue (Mid-game)
(Crazy Dave appears)
Crazy Dave: The Pianist Zombie is found in front, the piano music will let nearby zombies dance, changing their paths.
Crazy Dave: Try the new plant arrival, Spikerock. Planting them under Pianist Zombies will eliminate them easily!
(Crazy Dave leaves)
Difficulty
Strategies
Required plants:
Do what you need first. And here's a tip: Never plant the Twin Sunflowers on minecarts.
Again, plant the Bloomerangs on minecarts. While waiting for sun, delay the zombies with Iceberg Lettuce and blow them up with Potato Mine.
When there are more zombies coming, defeat them with Snapdragon, use Plant Food when you're in trouble.
Plant Wall-nuts to block the zombies and protect the plants.
Plant a Spikeweed immediately every time a Pianist Zombie comes.
Gallery
Walkthroughs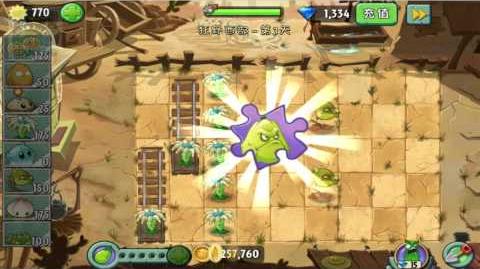 * A gate can be unlocked with a key after completing this level
^ Conjectural name