Ad blocker interference detected!
Wikia is a free-to-use site that makes money from advertising. We have a modified experience for viewers using ad blockers

Wikia is not accessible if you've made further modifications. Remove the custom ad blocker rule(s) and the page will load as expected.

"

Chance of taco: 0.015%. Margin of error: 0.016%

"

—Penny
For the international version of the level, see Wild West - Day 1.
For the version of the level after the v1.8 update, see Wild West - Day 1 (Chinese version).
Wild West - Day 1 is the first level of Wild West in the Chinese version of Plants vs. Zombies 2. As the player can see in the preview picture, the player will meet Cowboy Zombies, back in the 19th century. The new variants of the zombies are introduced here. Minecarts and rails are also introduced here. After completing this level, the player receives a money bag.
Dialogue
(Penny appears)
Penny: Six shooters: locked and loaded
Penny: Old timey piano music: downloaded
Penny: Chance of taco: 0.015%
Penny: Margin of error: 0.016%
(Penny leaves)
(After completing the level and receiving the reward)
Crazy Dave: Ride on the Ox-cart, towards the western panning
Crazy Dave: Take the plants, guarding against the zombies
Crazy Dave: We're coming, gold mine!
Crazy Dave: Penny, have you located the west's biggest gold mine yet?
Penny: Wasn't our target to find the taco?
Crazy Dave: But that is a gold mine!
Difficulty
It is a really simple level: just do the same as the player normally do. However, the player will get a tutorial about minecart rails. Do what they guide and remember:

It can move the player's plant into another lane. Simply like helping plants to kill zombies.
Never plant any sun-producing plants on minecarts. They are useless when planting on them. On the other side, the level is still easy to beat.
Strategies
Suggested plants
Remember how to use minecart rails. Do not dig the Peashooter. You will need to kill another zombies in the second, third and fourth lane.
Do not forget to do what you need. This is a very simple level, so you can create many strategies in this level.
You can create your own strategy in this level.
Gallery
Walkthroughs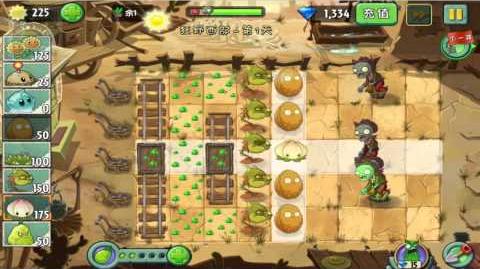 * A gate can be unlocked with a key after completing this level
^ Conjectural name