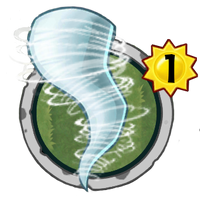 Whirlwind is a super-rare plant superpower trick card in Plants vs. Zombies Heroes, and a member of the

Smarty class. It costs 1

to play, and its ability gives the Bounce effect to a random zombie. Its zombie counterpart is Dolphinado.
Origins
It is based on the weather phenomenon with the same name and appearance.
Statistics
Card description
There's no place like home. There's no place like home.
Update history
Update 1.2.11
Strategies
With
Compared to Spring Bean, Whirlwind trades cost for power, costing 2 less sun but being unable to select which zombie to Bounce and having no useful tribes. Due to its ability being random, it is better to eliminate zombies yourself so that only threats remain on the field, then activate Whirlwind to eliminate one of those threats temporarily. It is not recommended to play this on the first turn, as your opponent has a chance to replay the Bounced zombie, unless you don't have a 1-sun cost plant for threats such as Mini-Ninja and Tennis Champ.
Against
Since Spring Bean acts similarly to Whirlwind, any strategy with Spring Bean applies to Whirlwind as well. However, you are a bit safer against Whirlwind as your opponent cannot select which zombie to Bounce.
Gallery
Old
Trivia
See also