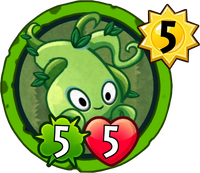 Whipvine is a premium rare plant card in Plants vs. Zombies Heroes, and a member of the

Mega-Grow class. It costs 5

to play, and has 5

/5

. It does not have any traits, and its ability moves a selected zombie onto a selected lane when it is played. Its closest zombie counterparts are Sumo Wrestler and Rodeo Gargantuar.
Origins
It is based on the plant scientifically known as the Flagellaria indica, or more commonly referred to as the whip vine, a type of climbing plant found in tropical areas.
Its description references the song "Git Along Little Dogies" by Roy Dogers.
Statistics
Class: Mega-Grow
Tribes: Root Plant
Traits: None
Ability: When played: Move a Zombie.
Set - Rarity: Premium - Rare
Card description
"Get along, little Zombie."
Update history
Update 1.16.10
Update 1.16.10
Rarity change: Uncommon → Rare
Update 1.22.12
Strategies
With
For a plant costing 5 sun, Whipvine is quite a decent plant given its raw stats. But thanks to its ability, Whipvine can also get you out of a tricky situation, or maybe just deal some free damage to the zombie hero. It can be used to move a zombie into a lane with another plant such as Potato Mine or Wall-Nut for stalling, or move a zombie away to make way for an

Anti-Hero plant. It can even be used to force a zombie to attack another plant to your tactical advantage (e.g. when there is a Briar Rose and you want a zombie to hurt a flower to get rid of it).
Against
Being a pretty strong plant, it is difficult to destroy, especially since it can move one of your zombies around.
If you wish to get rid of Whipvine, you can use tricks such as Rocket Science or Locust Swarm to destroy it quickly. Cut Down to Size is an especially cheap option if you are playing as Super Brainz or Rustbolt. Hail-a-Copter can be used to destroy this plant in struggling situations, though Copter Commando tends to be destroyed as well in the process.
Gallery
Plants vs. Zombies Wiki
has a
gallery
for Whipvine.
See also