Whack a Zombie
Comments

0
1,273pages on
this wiki
For the Adventure Mode version of this level, see Level 2-5.
Whack a Zombie

Mini-game

Screenshot

Setting
Night
Variation
Whack a Zombie
Difficulty
Medium-Hard (Extremely Easy if in iOS and Nintendo DS versions) (Very Hard if in Xbox 360 and PlayStation 3 versions)
It's just like huntin' squirbos.
Whack a Zombie is a mini-game based on Adventure Mode level 2-5, a Bonus Level. The player uses a mallet to whack zombies that spawn from graves all over the right half of the lawn. As the level continues, the zombies get faster. Different zombies take different amount of hits before they die. The player also earns sun to buy helpful plants.
Icons
Strategies
The player uses their mallet to whack
zombies
to kill them. Killed zombies occasionally drop 75 
sun
with which you can plant
Ice-shrooms
(
Cherry Bombs
in the
Adventure Mode
and iOS version),
Potato Mines
, and
Grave Busters
. As in
Wall-nut Bowling
,
Zombies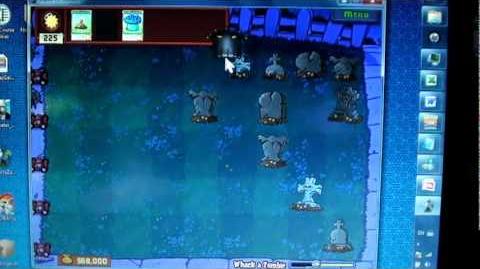 take one hit,
Conehead Zombies
two, and
Buckethead Zombies
three.
Initially, Grave Busters should be used to destroy the graves closest to the player's house or lanes with multiple graves, working backwards towards the edge of the lawn. As the level progresses, it is a good idea to systematically use Grave Busters so that eventually the only graves remaining are in one horizontal row (or at most two adjacent ones); this will group all the zombies together and thus make it easier to whack them. Also, since destroying too many graves causes multiple new ones to spawn at a time, it is ideal to leave exactly four graves, and then only destroy new ones as soon as they spawn.
Ice-shrooms or Cherry Bombs should be used wisely, as their recharge time stops them from being used more than twice. Potato Mines can also be planted in front of the Lawn Mowers to stop single zombies. Since the zombies walk faster and faster as the level progresses, the player may need an Ice-shroom right before the final wave.
When the level is complete, the player can, until they run out of sun, keep planting Grave Busters on the remaining graves. If they are lucky they can quickly remove all the graves. On the iPad version, the player should turn off the mutitasking gestures to use as many fingers as possible without interrupting the game by mistake.
Gold Farming
This strategy is simple: the player should use Grave Busters to remove as many graves as they can. If the player has enough sun at the end of the level, they shouldn't grab the money bag. The player should use Grave Busters to eat as many graves as they can and earn money, then collect the Money Bag.
Trivia
See also
†: Strategy page