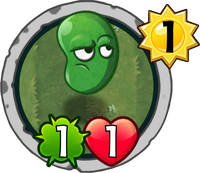 For other usages of beans, see bean.
Weenie Beanie

Statistics
Strength
Health
Cost
1
1
1
Set
Basic
Rarity
Common
Class
Tribe
Bean Plant
Prefers to be called "Vertically Challenged Beanie."
Weenie Beanie is a basic common plant card appearing in Plants vs. Zombies Heroes, and a member of the

Smarty plants. It costs 1
and has 1
/1

. This plant does not have any special effect and four copies of this card are given at the beginning of the game. Two Weenie Beanie cards will be added to the plant hero's hand when the Bean Counter is played.
Statistics
Class: Smarty
Tribe: Bean Plant
Set - Rarity: Basic - Common
Card description
Prefers to be called "Vertically Challenged Beanie."
Strategies
With
As Weenie Beanie is a basic 1/1 plant, it is outclassed by a very large number of cards. However, it can be very useful if you are using Bean Counters and Admiral Navy Beans, as you can spam Weenie Beanies due to them being very cheap, or block some high strength zombies such as Zombot 1000, Cat Lady that would otherwise damage your hero.
Against
Any zombie or trick can easily dispose of Weenie Beanie, due to its low stats. However, it can sometimes be recommended to leave this plant alive and allow it to attack your hero in order to charge your Super-Block Meter, so you can block a stronger hit later on.
Gallery
Trivia
Its name may come from a brand of canned beans entitled "Beanee Weenee" or a restaurant named Weenie Beenie.
Prior to the 1.2.11 update, this card could only be obtained via Bean Counters, tricks and Seedling.
Its name rhymes.
Sea also