Not to be confused with Weed Whacker.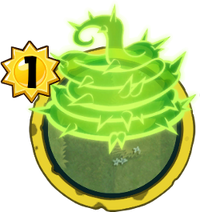 Weed Whack is a super-rare plant superpower trick card in Plants vs. Zombies Heroes, and a member of the

Solar class. It costs 1

to play, and its ability gives a selected zombie -2

/-2

.
Origins
Its name is a pun on a Weed Whacker, a device used to trim grass and weeds, and its flavor text makes a reference to it.
Statistics
Class: Solar
Tribes: Root Superpower Trick
Ability: A Zombie gets -2/-2.
Rarity: Super-Rare
Card description
Good for weeding out Zombies.
Update history
Update 1.2.11
Update 1.22.12
▲

Tribe change: Vine → Root
Strategies
With
If this is given as your starting superpower, you can use it to destroy an early threat like Tennis Champ, Mini-Ninja, or a 2-health zombie that costs 1 brain, like Dog Walker or Zombie Chicken. If this is given to you mid-game, you can use it to weaken a big threat, like Octo Zombie. However, if there are multiple zombies with low health, Scorched Earth may be a better alternative if your hero is Solar Flare.
Against
Getting -2 on both strength and health can be very devastating in the early-game, as it can severely weaken a zombie. Fortunately, it can only affect one zombie per game, and its power diminishes in the late-game. Counter this trick as you would with Squash and Goatify by having your team equally boosted.
Gallery
Old
Trivia
It resembles a Grave Buster as it appears in Plants vs. Zombies 2 without eyes and a mouth, slightly more light green and translucent.
Coincidentally, both plant heroes that can use this trick are based on flowers.