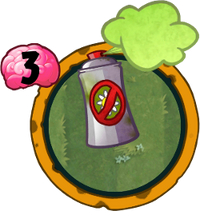 Weed Spray is a premium super-rare zombie trick card in Plants vs. Zombies Heroes and a member of the

Hearty class. It costs 3

to play, and its ability instantly destroys all plants on the field with 2

or less.
Origins
It is based on herbicides, more commonly known as a "weedkillers," which are used to control and/or clear desired areas of any weeds that occupy them, referring to how this trick clears the field of weak plants when it is played.
Its description mentions Peashooter, Sunflower, and Wall-Nut, and alludes to the fact that they all have less than 2 strength (1 for Peashooter and 0 for Sunflower and Wall-Nut), thus making them susceptible to this trick.
Statistics
Class: Hearty
Tribe: Trick
Ability: Destroy each Plant with 2 or less.
Set - Rarity: Premium - Super-Rare
Card description
Act now! Rids your lawn of pesky weeds... and Peashooters and Sunflowers. Also Wall-Nuts.
Update history
Update 1.16.10
Rarity change: Rare → Super-Rare
Strategies
With
Weed Spray is simply a cheaper variant of The Chickening, but instead destroys weaker plants rather than damaging them, allowing you to easily clear the board of plants with low strength. However, unlike The Chickening, Weed Spray will leave all plants with 3 strength or more unharmed, so its usefulness declines as the battle progresses, when more powerful plants can be played.
It is also a stronger version of Rolling Stone, as instead of destroying one plant with 2 strength or less, it destroys all plants with 2 strength or less. The best time to use this is when your opponent has an army of powerful, yet strengthwise, weak plants such as Shroom for Two. Spineapple can be countered with Weed Spray if the plants haven't been boosted any further. This can be detrimental towards plant heroes such as Nightcap, Solar Flare, and Wall-Knight who rely on a good early game or good defense. You can also pre-place zombies so your zombies have a path to hit the plant hero. Never use this on a single plant though, unless you only have this in your hand and need it gone immediately. If you catch that problem regularly, Rolling Stone is a good idea in your deck.
Against
If your opponent did not spend their brains on the third turn, try not to place some of your plants with 2

or less on the first three turns, as your opponent may use Weed Spray to destroy most of them, wasting a lot of your cards in which may overwhelm you in the late-game match. As a

Mega-Grow plant hero, you can try to boost your plants with Grow-Shroom or Fertilize, as they may greatly help you to defeat your opponent easily, giving them a high pressure. However, be aware that plants without strength can still be destroyed by Weed Spray, if you boost that plant via Grow-Shroom, since she only boosts a plant's strength by 2. One of the better cards to use, however, is Berry Angry, which boosts all of your plants' strength by 2, making them all invulnerable to Weed Spray unless they had 0

before Berry Angry was played or if one's strength is then reduced afterwards.
Gallery
Old
Trivia
Landscaper is seen holding a can which resembles Weed Spray. However, the can Landscaper holds yields a different effect, namely reducing a selected plant's strength.