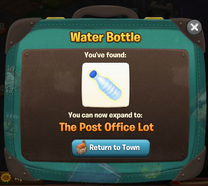 Water Bottle was an item obtained after completing level 21 of Park-n-Perish. It was used to reclaim The Post Office Lot, along with 1000 coins. The reason why the player needed to obtain it was because Crazy Dave was thirsty, and needed a drink.
Trivia
Unlike real water bottles, it did not seem to have a label representing the company that made it.
Ad blocker interference detected!
Wikia is a free-to-use site that makes money from advertising. We have a modified experience for viewers using ad blockers

Wikia is not accessible if you've made further modifications. Remove the custom ad blocker rule(s) and the page will load as expected.