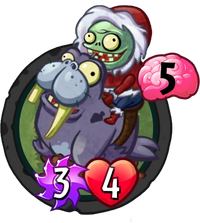 Walrus Rider

Statistics
Strength
Health
Cost
3
4
5
Set
Premium
Rarity
Rare
Class
Tribe
Pet Imp Zombie
Abilities
Amphibious
Anti-Hero 3
A walrus seemed the obvious choice. After all, horses don't go on land *and* water.
Walrus Rider is an premium rare zombie card in Plants vs. Zombies Heroes, and a member of the
Sneaky class. It costs 5

to play, and has 3
/4

. It has both the

Anti-Hero 3 and Amphibious traits.
Statistics
Class: Sneaky
Tribe: Pet Imp Zombie
Abilities: Amphibious, Anti-Hero 3
Set - Rarity: Premium - Rare
Card description
A walrus seemed the obvious choice. After all, horses don't go on land *and* water.
Update history
Version 1.2.11
Rarity change: from Basic - Uncommon to Premium - Rare
Strategies
With
This zombie can be very effective on water lanes. Its Anti-Hero trait allows it to attack the plant hero for 6 damage, and since many plants do not have the Amphibious trait, it can easily damage the plant hero multiple times. Try to use moving abilities such as Carried Away to get to unoccupied lanes if a plant is placed in its way.
Against
If the player is facing against a Walrus Rider on the water lane, Sweet Potato or Whipvine can use its ability to move Walrus Rider into either's lane, removing it from the water lane and blocking one attack. It is recommended to try and destroy this zombie quickly after, as Sneaky zombies have access to Smoke Bomb or Carried Away to move Walrus Rider back into a water lane.
Additionally, using Squash, Whack-a-Zombie (only if Walrus Rider is facing a plant fighter in the same lane as it is) or Sizzle can deal with Walrus Rider easily.
Gallery
Old