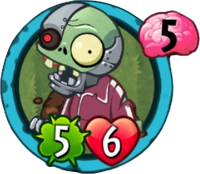 Vengeful Cyborg

Statistics
Strength
Health
Cost
5
5
5
Set
Token
Class
Tribe
Science Zombie
Traits
Hunt
Abilities
None
His toupee went missing in the heat of battle and he's been furious about it ever since.
Vengeful Cyborg is a token zombie card in Plants vs. Zombies Heroes, and a member of the

Beastly class. He is obtained as a card mainly when Cyborg Zombie is destroyed but can also be obtained from Portal Technician and Transformation Station and as a card from Cosmic Scientist and Eureka. He costs 5

to play, and has 5

/5

. He has the Hunt trait, and does not have any abilities.
Origins
He is based on the Terminator, the main protagonist in the majority of the franchise of the same name.
Statistics
Class: Beastly
Tribe: Science Zombie
Trait: Hunt
Abilities: None
Set: Token
Card description
His toupee went missing in the heat of battle and he's been furious about it ever since.
Update history
Update 1.16.10
Strategies
With
This zombie has average stats for his cost, which is on average 1

/1

per

. He is useful at preventing some powerful plants from being able to attack the zombie hero. If you want to make full use of him, use him with Immorticia, who has access to Gadget Scientist that allows him to do a bonus attack and most likely destroy any plant that is played, and Zombot Drone Engineer, to allow Vengeful Cyborg to deal more damage. This works as well for Interdimensional Zombie as he can transform into a random zombie that costs 3 brains. You can also give him the

Frenzy trait or a boost from Vitamin Z or Area 22 to stress the plant hero from playing strong plants.
Against
Stat-wise, this zombie is pretty average for his cost. However, his high strength means he will most likely destroy anything that is played on turn 5. To deal with him, you can Bounce him, as his high price tag will setback the zombie hero for that turn or outright destroy him with cards such as Shamrocket and Squash. He also has decent health, so you can get rid of him with plants with 5

or more, like Smoosh-Shroom. You could also

Freeze him then put a

Double Strike in his lane to ensure extra damage will be done to him.
Be aware of the order you play cards in if this zombie is on the field, as you may want certain plants dealing with the Vengeful Cyborg and other plants attacking the opposing hero directly.
Gallery
Trivia
His description references how Cyborg Zombie loses his toupee when he gets destroyed.
See also