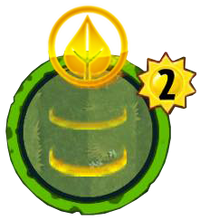 Vegetation Mutation

Statistics
Strength
Health
Cost
-
-
2
Set
Galactic
Rarity
Uncommon
Class
Tribe
Trick
Abilities
All Plants on Heights and Environments get +2/+2.
Environmentalism at its finest.
Vegetation Mutation is a galactic uncommon plant trick card in Plants vs. Zombies Heroes and a member of the

Mega-Grow class. It costs 2

to play, and its ability gives all plants that are on heights lanes and environments +2

/+2

.
Statistics
Class: Mega-Grow
Tribe: Trick
Ability: All Plants on Heights and Environments get +2/+2.
Set - Rarity: Galactic - Uncommon
Card description
Environmentalism at its finest.
Update history
Update 1.16.10
Strategies
With
This card can benefit greatly the more environments there is on board. Before using this card, try to cover each ground lane with any environment like Coffee Grounds to benefit this card late game. Then, play as many plants as possible and use this card to give all plants a medium stat boost.
If all 3 ground lanes are filled with any environment, this card can act like a Monster Mash for plants that costs 3 less and does not benefit the aquatic lane.
Take note that if you have many plants on the height lanes and environments when you use this trick while you have Potted Powerhouse in your hand, it will boost itself up to 8 times, resulting in a massive stats of at least 11

/11

.
Against
You want to be careful if you're against a Mega-Grow hero that plays swarms of plants and environments as it can allow the plant hero to boost swarms of plants that are on heights or environments. Play Zombot 1000 next turn to remove all plants, if possible. If that is not possible, make it harder to play this trick with Defensive End or Bounce each of the plants to waste the boost, or destroy them with Rocket Science or
Deadly zombies, in particular, Toxic Waste Imp. You also need to be careful when you play your own environments since this trick will also count your environments. In that case, use environments such as Total Eclipse, so the plants only get +1 +1 You also need to be careful as your opponent may be packing a Potted Powerhouse in their hand.
Gallery
Trivia
This card reuses the textures and card image of the removed Inspire card.
Its code name is "Sprouting Expansion."
It was first officially renamed as "Plant-etary Proliferation," before being finally renamed as "Vegetation Mutation."
Its name is an example of rhyming.