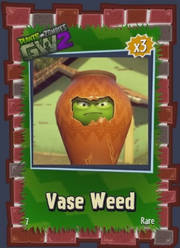 Not to be confused with Porcelain Vase Weed.
Vase Weed is a Spawnable Plant and a Weed variant in Plants vs. Zombies: Garden Warfare 2. ​It is a normal Weed that supposedly has grown upside-down into the vase it was planted into and now uses it as a highly protective form of body armor.
It is the plant counterpart of the Coffin Zombie.
Its melee attack while in the vase is named Weed Bash which deals 25 damage and its melee attack while out of the vase is called Weed Whip which deals 15 damage. Its long ranged attack is called Seed Spit which deals 25 damage.
Stickerbook ​description

​This Weed grew into a vase and plays it off like he did it on purpose. Luckily, vases are super protective.
Health
The Vase Weed has around 1200 health.
While this is higher than the Coffin Zombie's health, the Vase Weed has a larger weak spot (its feet and its face) and zombie classes deal higher damage than plant classes on average.
Trivia
Its vase is a reference to the brown vases in Vasebreaker, a Puzzle Mode which has either plants, zombies, sun, or plant food hidden in vases.
Also, like the Porcelain Vase Weed, it supposedly grew upside-down in the vase. This can actually happen in real life.