This article is under construction and requires more content. You can help our wiki by
expanding it
.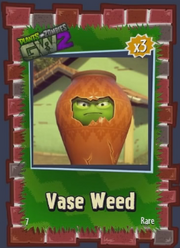 Not to be confused with Porcelain Vase Weed.
Vase Weed is a Spawnable Plant and a Weed variant in Plants vs. Zombies: Garden Warfare 2. ​It is a normal Weed who has grown inside a large vase and using it as a highly protective shield. It is the plant counterpart of the Coffin Zombie. Its melee attack while in the vase is named Weed Bash and its melee attack while out of the vase is called Weed Whip. Its long ranged attack is called Seed Spit.
Stickerbook ​description

​This Weed grew into a vase and plays it off like he did it on purpose. Luckily, vases are super protective.
Trivia
Its vase is a reference to the brown vases in Vasebreaker, a mini-game which has plants or zombies hidden in vases.
This article is a stub. Help us
expand it
, or the zombies will eat your brains!
Ad blocker interference detected!
Wikia is a free-to-use site that makes money from advertising. We have a modified experience for viewers using ad blockers

Wikia is not accessible if you've made further modifications. Remove the custom ad blocker rule(s) and the page will load as expected.