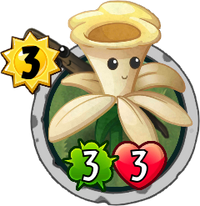 Vanilla

Statistics
Strength
Health
Cost
3
3
3
Set
Basic
Rarity
Common
Class
Tribe
Flower Plant
"I'm sorry, it's just... I have nothing interesting to say."
Vanilla is a basic common plant card appearing in Plants vs. Zombies Heroes and a member of the

Smarty plants. It costs 3
to play and has 3

/3
when played.
Origins
It is based on the flowering plants from the genus, Vanilla. Its name, description and lack of special ability is also a play on the adjective vanilla, meaning plain.
Statistics
Class: Smarty
Tribe: Flower Plant
Set - Rarity: Basic - Common
Card description
"I'm sorry, it's just... I have nothing interesting to say."
Update history
Version 1.2.11
Description change: quotation marks were added to the start and end of its description.
Strategies
With
Vanilla is exactly what it describes itself as: Nothing interesting. Not that its stats are to be made fun of, as it has decent stats for a 3 sun plant. It's the lack of an ability that makes it outclassed later on. If Rose is being used, it can provide a use in conjunction with Briar Rose and Power Flower.
Against
This plant is relatively harmless, but early in the game can prove to be a threat due to its average stats for a 3
plant. In addition, Flower Tribe boosters can also make this more formidable. The best way to dispose of this is to use something cheap, but strong at the same time. Tennis Champ will do this with ease. If all else fails, bouncing and tricks are always an alternative.
Gallery
Old
Trivia
It is the first new plant the player obtains in Plants vs. Zombies Heroes.
Before the 1.2.11 update, its description was grammatically incorrect, since the description is a quote from it and there were no quotation marks at the start or end of the description.