I've been working on a pair of PVZ Projects that I would like to share with you. Take a look.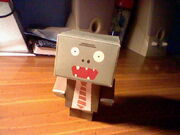 This project is on the gallery section of the zombie page. It took me about a month of work to design and edit. It was made using paper. No glue or tape was used. It used tabs and slots for construction.
Now look at this.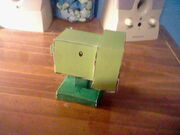 Another papercraft character. I only recently finished it, and it's posted in the peashooter gallery. If you look closely, there's actually a leaf on the back, just like in the game.
I've been doing origami for years, and only a few years ago, I discovered CubeeCraft, an online website specializing in little papercraft characters. The zombie was made with a blank template, and the peashooter was a modified blank template.
These projects are not posted on CubeeCraft...yet. I still need to work things out with the site owner before they can be added. If I get enough likes on this blog, I will post the templates for download on this wiki.