After a time blog post, I present to you...
MAPS !
Here is some map I created.
The First one is my Cat Kingdom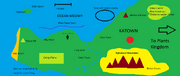 It's not hard to see and a bit detailled.
The Second one is the GREAT WORLD MAP !
The GREAT WORLD is a name I gave to a video game world, with each continent symbolizing a game.
There are "Uncharted Land". You can give me ideas in the comments so I will add them to the map.
For now, the PVZ Continent is the most detailled.
Some zooming may be required to read everything nice.
My kingdom is in PVZ Continent.