Anybody is allowed to edit! Bold = Known fact
Italics = Speculation
None = Speculation support
Plants level up, and you can have manyifferent plants of the same kind. They have a winning animation, though it is a simple up and down left and right eathquake movement.
Plant food is now plant-type specific, and will drop from zombies and one will be gotten every wave, out of a slot machine.
Plants
Wallnut
Levels into tall-nut.
Puff-shroom
Levels into Fume-shroom. Puff-shroom is one of the basic plants.
Puff-shroom does 127 damage at level 1.
Sunflower
Levels into Twin-Sunflower. Sunflower is one of the basic plants. Heals all plants when plant fooded. Sunflower does 161 damage on attack at level 1, shooting sun-pulse like ammo.
Peashooting
Peashooter -> Repeater Peashooter is a basic plant When plant fooded, it will shoot a ton of small peas, killing a single zombie, at level ?-4, it it will shoot a bunch of normal peas, that will kill two normal zombies. At level 1, it will shoot many small peas, but at level ?-4, it will shoot normal ones.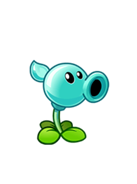 Sno'w Pea -> Water Pea
Lobbed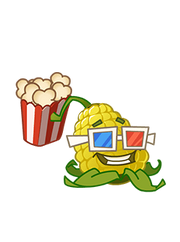 Kernel-pult -> Popcorn-pult
Other
Snapdragon -> Seadragon
Zombies
When zombies die, they can drop a plant food, AKA a class powerup (each plant has its own type).
Fires poles that do 27 damage, special attack does 31 damage to all plants.
Fires
TBA!