My strategy in ZomBotany2 got majorly misinterpeted, so I decided to post my photos here so you can try them out. Notice that these don't use so many Sunflowers.
Survival:Day
Here is my strategy for Survival:Day
. Notice that it plays itself out like a normal Day level, except far longer.
Survival:Night
And now Survival:Night. This is divided into two parts. The Wall-nut in part 2 is the result of me forgetting my Garlics, and the crater was me being impatient. The Sun-shrooms not-in-the-first-column were preparing for a major problem with the Garlics, but apart from that I sufficed.
Survival:Pool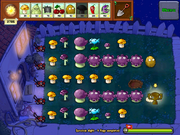 Now we continue onto Survival:Pool. And before you call my strategy unreliable because of the Kernel-pults, let me remind you that there were Snow Peas and Melon-pults behind, and if you preferred, you could use Cabbage-pult.
Seeing Stars
Now, time to make a giant starfruit. This strategy uses the bare minimum to defend against Bucketheads, and only then progresses onto the planting of Starfruits.
Zombie Nimble Zombie Quick
This plays itself out like a pool level, but PLANT THE SNOW PEAS AND REPEATERS IN THE POOL BEFORE PLANTING SNOW PEAS OR REPEATERS ON LAND.
ZomBotany2
The biggie mentioned at the start.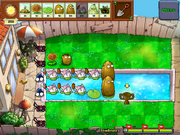 Survival:Endless
THE REAL BIGGIE. Until you have Spickerocks and Tall-nuts and everything behind, plant (Twin) Sunflowers in the first column. WATCH OUT FOR CAT-A-PULT SPAMMING YOUR WIK-I mean Catapult Zombies killing stuff. I got to flag 5 once(because of Catapults)and the second time 18(I lost to Catapults, Giga-Gargs, and Zombonis). HATE!!!!!!!