Defeating Dr. Zomboss is as easy as 1,2, plant! thumb|300px|rightGet to level 5-10
Put a catapult plant where the first zombie is.
Repeat until plants are in each row.
If Dr. Zomboss launches Ice Ball, plant a jalapeno in that SAME ROW!
If he launches a fire ball, you can plant and ice shroom in any row.
Repeat until he falls and you get a trophy!
You win!
P.S. I beat the game 2 times. No joke!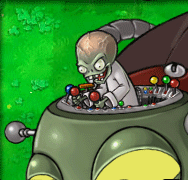 Ad blocker interference detected!
Wikia is a free-to-use site that makes money from advertising. We have a modified experience for viewers using ad blockers

Wikia is not accessible if you've made further modifications. Remove the custom ad blocker rule(s) and the page will load as expected.