I just found this wiki through a search for walkthroughs, but my son has informed me that HE'S been coming here for ages! Well, it takes some of us old folks a while to catch on, lol. (I just turned 50, my son is 23).
I'd never done much gaming beyond Bejeweled and such. One year for my b-day my bf got me a Steam account & a game that had just come out & was getting VERY good reviews - PvZ. I was hooked! Still am; just started it over when I got the DS version with the new figure.
I also help run the DEVASTATION game tournament convention, and am badgering them for a PvZ Survival Endless one! One day....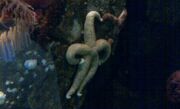 Ad blocker interference detected!
Wikia is a free-to-use site that makes money from advertising. We have a modified experience for viewers using ad blockers

Wikia is not accessible if you've made further modifications. Remove the custom ad blocker rule(s) and the page will load as expected.