Note: This is MY version of EWWPvZ2, for Lily's version, click here .
Oh, CinemaSins getting to the wiki? My turn now!
Now for...
Everything Wrong with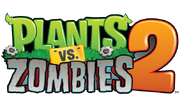 Spoilers! (DURRRR Yah.)
BEGIN!
1. Just as we thought sentient and weaponized plants fighting against zombies was un-realistic enough, PopCap just HAD to decide to add time-travel.
2. All of a sudden, Crazy Dave becomes a genius and gains the ability to make time-travelling robots.
3. Why waste time time-travelling for a taco when you can just, I don't know, BUY IT IN FOODMARTS!?
4. Modern zombie who explores everything Egyptian apparently appearns in a timeline of "A long long time ago".
5. As of Dark Ages, things get nasty, until Frostbite Caves.
6. As of Dark Ages, Crazy Dave and Penny decides to make chit-chat about introducing you about a new plant.
7. As of Dark Ages, Dr. Zomboss acts like he's in a timeline that he is in, until his last words of Frostbite Caves - Day 30.
8. As of Dark Ages, the "Four-legged Cyclops" Zombots trend ends and gets replaced with the "Animal-based Not Gonna Show Ya the Full Body" Zombot trends.
9. As of Dark Ages, the Wizard-like Neutralizers trend has begun
10. As of Dark Ages, we now get 5 plants for a world instead of 7-8.
11. As of Big Wave Beach, we now get "world-exclusive" plants.
12. As of Frostbite Caves, PopCap decides to lend us mercy...but one of them disapproves of it.
13. As of Far Future and Frostbite Caves, there may be a chance for your Gargantuar to do more than what is expected.
14. Costumes... for swag.
15. Chinese Costumes... for swaggalicious power.
16. China gets exclusive worlds because- 404 Not Found.
17. China gets exclusive mini-games because- 404 Not Found.
18. China gets exclusive plants and zombies because- 404 Not Found.
19. Like the other PvZ Games, we retain our Psychic Powers, as shown since we can plant plants without digging out soil, putting seeds insides, burying it, waiting for days, feeding it water and sunlight and we can just flick zombies off the lawn.
20. Power Snow, Power Zap and Power Flame can give us the ability to "Snowball-bend", Fire-bend, and "Lightning-bend", because we all know "Avatar: The Legend of Aang and Korra", right?
21. Plant Food is an atomic leaf, which may be dangerous.
22. Mummies, Pirates, Cowboys and Caves have neckties.
23. Far Future is just a reminder of how people used to think what the Future looked like back in the 90s.
24. The Map-change was just an excuse to add the Gargantuar and Zomboss levels.
25. China adds Puzzle Pieces, Gold Nuggets, Medals, more levels to FF, DA and BWB because- 404 Not Found.
26. Coins weren't invented back in the Ice Age, but the FC zombies have them.
27. Dr. Zomboss never made a special-srategy to fight the plants until Frostbite Caves - Day 30.
28. Days and Nights are so fast in this game, instead of 24 hours a day/night, you get a few minutes a day/night!
39. As of Dark Ages, PvZ2 Art-Style has changed.
30. Fire Peashooter, what an ORIGINAL name!
31. Bananas don't de-ripe when they lose their bananas.
32. Guacodiles have some ability to quickly generate pits.
33. Octo Zombie's left shoulder can generate orange octopi.
34. Dev Diaries changed style..from "it takes place in our office" to "it take place somewhere out in the world".
35. Kung-Fu World has 2 bosses because- 404 Not Found
36. Neon Mixtape Tour gets 6 plants, but no more after Jurassic Marsh
37. Shame that they put effort in all things 80s related. Neon Mixtape Tour gets better treatment than the other worlds released after Far Future. EVEN Modern Day doesn't get treatment as good as NMT's and that's possibly the FINAL world!
38. Carrots and revive plants... why?
39. Modern Day's disappointing boss battles.
40. Power Plants.
41. World-expansions which are impossible without levelling up your plants.
To be continued......