A self-made 6 frame gif. All frames were done in MSPaint only using:
Straight line, Brush, Select(to move certain parts), Eraser, and that one to add text.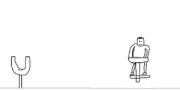 (Story: A Pogo Zombie was happily bouncing. A magnet-shroom stole his pogo and some force threw him over directly to the player's house ignoring any and all lawnmowers. Game Over.)
I can make a colored version but wait until tomorrow.
Ad blocker interference detected!
Wikia is a free-to-use site that makes money from advertising. We have a modified experience for viewers using ad blockers

Wikia is not accessible if you've made further modifications. Remove the custom ad blocker rule(s) and the page will load as expected.