Comments

3
Special Game: Caption Contest in HALLOWEEN EDITION!
Happy Halloween, Everyone!
Put in your comment what do you say this picture: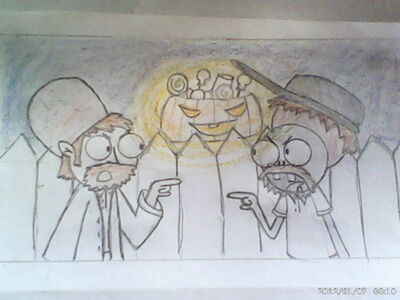 Story: In Halloween, Crazy Dave dressed as Dr. Zomboss and Dr. Zomboss dressed as Crazy Dave. Somehow, they meet together and said: "What the? WHY YOU DRESSED LOOK LIKE ME?!?!"
Well, I think looks like body swap to me. LOL!
My Caption:
Crazy Dave: Hey! (look at Dr. Zomboss is dress looks like him)
Dr. Zomboss: What the?!?(look at Crazy Dave is dress looks like him)
Crazy Dave and Dr. Zomboss: WHY YOU DRESSED LOOK LIKE ME!?!?
AND...... What is your Caption?
Ad blocker interference detected!
Wikia is a free-to-use site that makes money from advertising. We have a modified experience for viewers using ad blockers

Wikia is not accessible if you've made further modifications. Remove the custom ad blocker rule(s) and the page will load as expected.