Comments

9
It's about NEW Caption Contest Time! for the Second time!
Hello, Guys! 
Well... Since we're still waiting for new update of PvZ 2 with new level, "Far Future"...
LET'S HAVE OUR CAPTION CONTEST AGAIN! :D (Caption Winners in CC 1 will be soon! After another Caption Contest parts)
Let's Start: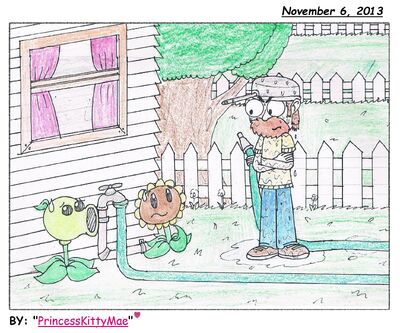 Story:
Peashooter and Sunflower... They accidently opens the faucet so hard while Crazy Dave was having to watering plants in the morning... Then Dave got soaking wet...
Caption Example(from my DeviantARt Friend): 
Dave: Very Funny, you two... >:(
Peashooter&Sunflower: I swear! We don't know how this happens... :(
Dave: Fine... I apologize you guys... Well... I gonna change my clothes... :/
---
Well, guys... What is your caption? :)
Ad blocker interference detected!
Wikia is a free-to-use site that makes money from advertising. We have a modified experience for viewers using ad blockers

Wikia is not accessible if you've made further modifications. Remove the custom ad blocker rule(s) and the page will load as expected.