Hey, everyone I'm back! I'm really bored at home every Saturday, while I'm playing my favorite video game. 
While we waiting for Plants vs. Zombies 2: Garden Warfare. We're having for a Caption Contest!
Put in your comment what do you say this picture: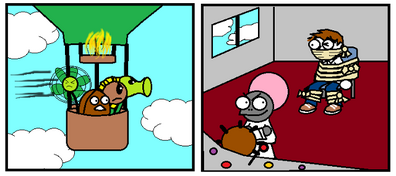 Story: Crazy Dave is kindnapped by Dr. Zomboss and tied him by the zombies. Sunflower, Peashooter, and Wall-Nut must find and rescue him. So what happened next?
My Caption:
Sunflower: Guys, we must rescue him!
So what is your caption?