A GameMaker game i made. Here, you steer Crazy Dave in a platformer, you can unlock seeds to place them to kill zombies, and more!
Downloads
V. 0.1: http://www.mediafire.com/download/sggx96k0h8kag10/Dave+Adventures.exe
V. 0.2 (i know the link says 1.0): http://www.mediafire.com/download/gwty1jzjmnicju2/Dave+Adventures+v.+1.0.exe
V. 1.0 (Now really 1.0!): http://www.mediafire.com/download/a2sl1n592d2hh8b/Dave+Adventures+1.0.exe  
v. 2.0 (Massive update; completely redone game!) (newest update):https://www.dropbox.com/s/x8yvdx41msmppbc/Dave%27s%20Adventures%202.0.exe?dl=0
Screenshot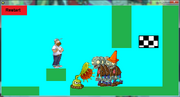 Ad blocker interference detected!
Wikia is a free-to-use site that makes money from advertising. We have a modified experience for viewers using ad blockers

Wikia is not accessible if you've made further modifications. Remove the custom ad blocker rule(s) and the page will load as expected.