My strategy is on the right.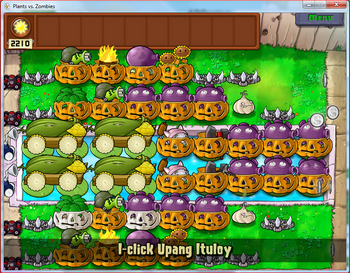 F.A.Q:
Why it says I-click Upang Ituloy? I changed PvZ's language to Filipino.
Plants are what for?
Spikerocks = Digger Zombies and to stop both Gargantuars' walk
Cob Cannons = Gargantuars and Giga-gargantuars
Cattails = Balloon Zombies
Umbrella Leafs = Bungee Zombies
Magnet-shrooms = To defeat Football Zombies easily
Gloom-shrooms = Pool Defense
Twin Sunflowers = sun
Garlics = To move zombies to lanes where Glooms can shoot zombies
Gatling peas, torchwoods and fume-shrooms = For killing zombies
Ad blocker interference detected!
Wikia is a free-to-use site that makes money from advertising. We have a modified experience for viewers using ad blockers

Wikia is not accessible if you've made further modifications. Remove the custom ad blocker rule(s) and the page will load as expected.