BTW - this is the first time that I am writing a blog and/or walkthrough - please comment! I had some difficulties getting two achievements, namely Pyromaniac and Chill Out. So I decided to share my strategies (after I finally succeeded) :-)
To collect achievements, it is best to play in Quick Play
Pyromaniac has to be played at a night level (I finished the game in a day level, waking the Doom-shroom with a Coffee Bean, and didn't get the Achievement) x-(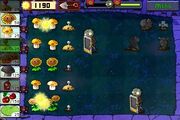 Plants:
Sunflower, Twin Sunflower, Sun-shroom
Potato Mine and Imitator Potato Mine
Doom-shroom, Cherry Bomb, Jalapeno
Kill the first few zombies with Potato Mines. If there is a group, use a Cherry Bomb.
Try to build a defensive wall from Potato Mines.
Use the Doom-shroom only for the last two waves.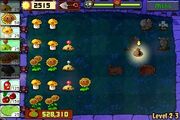 Ad blocker interference detected!
Wikia is a free-to-use site that makes money from advertising. We have a modified experience for viewers using ad blockers

Wikia is not accessible if you've made further modifications. Remove the custom ad blocker rule(s) and the page will load as expected.