Fan made plants
Here you can watch fan-made plants others created,but you can also make and publish yours! But don't delete other plants!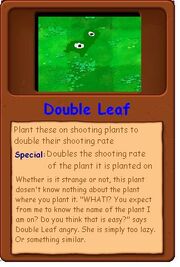 Double Leaf:
Sun cost: 100
Must be buyed from Crazy Dave for $5000.
It doubles the shooting rate of the plant
it is planted on.
Can be only planted on shooting plants.
Cannot be planted on catapults.