Im The Digger Zombie. And Yez I Love Digging! Im the real digger zombie and i may be fat... but catapult zombie iz fatter! i will be your demize ztarting level 4-6! and you dam magnet zhrooms better not try to zteal my pickaxe! When I Waz a Human I Waz A Digger And I Found Alot Of Gemz. Then The Zombies Ate My Brainz! Zoon I Became Thiz Terrifying Monster! Zinze Then I Wanted To Eat Brainz Out Of Other Peoplez.
Zencirly, The Digger Zombie Himzelf.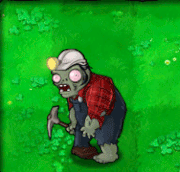 Ad blocker interference detected!
Wikia is a free-to-use site that makes money from advertising. We have a modified experience for viewers using ad blockers

Wikia is not accessible if you've made further modifications. Remove the custom ad blocker rule(s) and the page will load as expected.