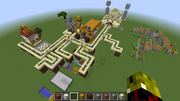 So, I made my version of the map for Ancient Egypt in Minecraft. The ground hasn't been put in yet, as that will most likely take around 3-4 hours without commands. The map itself already took 3 hours to begin with. There's 16 main levels, and the Gargantuar battle is on day 8, while the Zomboss battle is on Day 16. The signs on the map indicate plants, and the treasure chests represent treasure chests (the ones on the main path contain a world key and a vasebreaker pack, while the ones behind gates contain coins.).
Pirate Seas is next, and I'll make it on Monday, most likely.
Ad blocker interference detected!
Wikia is a free-to-use site that makes money from advertising. We have a modified experience for viewers using ad blockers

Wikia is not accessible if you've made further modifications. Remove the custom ad blocker rule(s) and the page will load as expected.