Howdy there! I really cancel the project with HotS - PvZ. Instead, after so long time, I show you my 2nd world concept. It's about clumsy magics, shamans, curses and moar! The water here is so cold, so some freezing may apprear.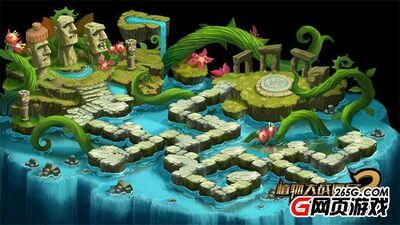 Plants
Image
Plant
Description
Plant Food Ability
Cost
Recharge
Umbrella Leaf
Protects from 5 next attacks like Garg's Smash, then dies.
Increases duration to 15 next attacks and shakes itself to throw water from itself to leave na ice path that slows zombies for 10 seconds in the lane Umbrella Leaf is placed.
75
Sluggish
Shamrock
Deals low damage in peashooter style. Immune to incoming attacks.
Releases 120 rainbow projectiles randomly splited among zombies.
100
Fast
Cactus
Shoots spiky projectiles at zombies. Can instakill flying zombies.
Shoots 5 spiky projectiles at zombies to instakill them.
125
Fast
Chill Pepper
An instakill like Jalapeno, but also leaves an ice path to slow zombies. Path lasts 10 seconds after explosion. You can still plant on ice path.
N/A
150
Slow
Hazelnut Ball
A plant like a Wall-nut, but with immunity to incoming attacks.
Gears up with a steel armor to gain extra HP and reflect incoming attacks to thier caster.
75
Sluggish
Pineapple
He and other plants in 3x3 area are immune to incoming attacks. When placed near already cursed plant(s), it's(they're) restored from them.
Removes all incoming attacks from all plants and gives them immunity to incoming attacks for 10 seconds.
200
Not So Sluggish
Appel
AoE damager. Turns incoming attacks into short-time boosts.
Gives a random buffs and increases its durability.
175
Mediocre
Gatling Pea
Shoots 4 peas at once.
Shoots 120 peas at zombies in straight lane.

250

3,99$

Mediocre
Zombies
| Image | Zombie | Description | Toughness | Speed | First Appreance |
| --- | --- | --- | --- | --- | --- |
| N/A | Apprentice Zombie | A basic zombie. Nothing special. | Average | Basic | Lvl 1 |
| N/A | Conehead Apprentice | His cone founded on water adds to durability. | Protected | Basic | Lvl 1 |
| N/A | Buckethead Apprentice | After founding a stone helmet, he's the strongest apprentice. | Hardened | Basic | Lvl 2 |
| | Bird Zombie | Flies above plants, because his birdy is his very skilled pet. | Protected | Hungry | Lvl 4 |
| | JuJu Shaman Zombie | Throws a bone at random plant to curse it. Plants cursed by bone cannot do thier actions and be Plant Fooded. | Protected | Stiff | Lvl6 |
| | Ku-Ba Shaman Zombie | Shoots 2 bees to a plant after taking damage. Damage of bess is worth 2 damage. | Average | Hungry | Lvl 10 |
| N/A | Bloodscalp Shaman Zombie | Uses the clumsy magic to make plants deal damage to each other. | Medium | Basic | Lvl 14 |
| N/A | Ziki Ziki Shaman Zombie | Dances like a Jester to buff zombies in 3x3. | Protected | Hungry | Lvl 17 |
| N/A | Tribe Gargantuar | Smashes plants with his magical stuff from ChiChiChi gods, launches Tribe Imp when damaged. | Great | Hungry | Lvl 8 |
| N/A | Zombot Curse-inator | Summons his minions (zombies), causes a random curse ocasionally for 10 seconds, launches bee projectiles. | Undying | Hungry | Lvl 25 |
Brain Buster
Ritual Frenzy
In this Brain Buster, you must survive the huge wave of curses and clumsy magics. The ambush of this zone apprears often.
Ambush
CURSE!
A rain falls from the sky, sending a curse to max 3 plants (without immunity to them).
Upgrades
Sun Tycoon
Use your shovel to remove plants and gain 100% of spended sun + 50% from the cost! That's CRAAAAAAAAZYYYYYYYYY!
Healing Food
Spend your PF to give a ability and immunity for 10 seconds! Cowabunga!
Rewards
Lvl 1: Money
Lvl 2: Money
Lvl 3: Umbrella Leaf
Lvl 4: Money, Special Delivery
Lvl 5: Present, Endless Zone (Three Dangerous Gods)
Lvl 6: Shamrock
Lvl 7: A Note, Ritual Frenzy
Lvl 8: A World Key
Lvl 9: Money, SOS 1
Lvl 10: Sun Tycoon
Lvl 11: Cactus
Lvl 12: Money, Special Delivery
Lvl 13: Present
Lvl 14: Chill Pepper
Lvl 15: Money, Last Stand 1
Lvl 16: Money, L&L 1
Lvl 17: Hazelnut Ball
Lvl 18: Money, Ritual Frenzy
Lvl 19: Money
Lvl 20: Healing Food, SOS 2
Lvl 21: Pineapple
Lvl 22: Present, L&L 2
Lvl 23: Money
Lvl 24: Appel, Last Stand 2
Lvl 25: Zomboss Statue
Hope you enjoy. ;)