Welcome the third edition of the unofficial Plants vs. Zombies Wiki News! Not a particularly interesting week when it comes to news, but stuff still happened.
Plants vs. Zombies news
Lost City Part 2 trailer!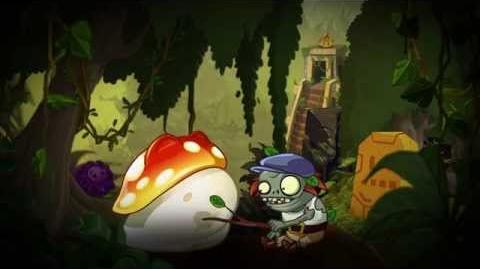 Not too long after Part 1 released, we are nearing the release of Lost City Part 2! While I know a lot of users know information about Part 2 from leaks that happened during the last week, I will still not spoil it for those who do not know. In the trailer, we can see a purple flower plant, a plant based on a frog and a golden plant that closely resembles a leaf. Additionally, we could see Lost City's Zombot, in what only looks like a type of flying balloon, a new Imp, a zombie holding a blue skull and a zombie swinging in a manner similar to Swashbuckler Zombie.
We will probably see the Dev Diary soon, and the soft release will probably come out this week, so hold tight!
New trailer for Garden Warfare 2, situation cools down
A new trailer for Plants vs. Zombies: Garden Warfare 2 quietly released. I was not able to find the official channel that released the trailer.
Pretty much no new info came out on Garden Warfare 2, though I haven't analyzed the new trailer. The articles on the wiki cover all the info we know about.
Plants vs. Zombies Wiki news
New staff members!
Charmande red321 and ThePurplePi got promoted to forum moderator, while Birdpool was promoted to rollback. Congratulations!
Discussions
Like every week, we have active discussions on the wiki:
These ones should be voted on quickly before they end:
On this week,
weeks ago...
June 19th, 2014 - The trailer for Dark Ages Part 1 released!
June 21st, 2014 - Soft release for Dark Ages Part 1 released!
There are also some changes that happened last week. Environment modifiers are to be added to level pages from now on, except for levels that do not have it or which cannot be described. From now on, a month must pass after a new rule is enforced before you can suggest a new rule that challenges it.
Weekly poll
What was the most exciting thing in the Lost City Part 2 trailer?