Welcome the sixth edition of the unofficial Plants vs. Zombies Wiki News! This was a "fruitful" week, but the spoiler-free environment will make the news section quite emptier...
Plants vs. Zombies news
"New" Garden Warfare 2 trailer
This is actually a trailer I already posted in an older news blog, but it's been officially released now as far as I know, and it's in a better quality. Plus, we know the name of the map now!
"New" PvZ game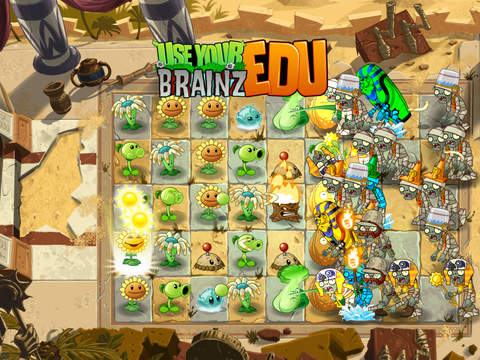 Woah, what! A new PvZ game?! Why isn't this news blog more exciting?? Well, the new PvZ game which released on June 17 this year but which apparently no one knew of, called Use Your Brainz EDU, is simply a stripped-down educational version of Plants vs. Zombies 2. It has only the first two worlds, Ancient Egypt and Pirate Seas, which have 22 levels each.
It is supposedly widely used in schools and helps with math. It also received a lot of hate from the community on the Plants vs. Zombies Wiki. You can download it here, but I can't promise anything you haven't seen before.
To end this, it is the first Plants vs. Zombies game not to have "Plants vs. Zombies" in its title.

Plants vs. Zombies Wiki news
Staff member vote
No new staff members, but there two votes currently going on. Imacherrybombyay125 applied for rollback and Birdpool applied for forum moderator. Be sure to vote!
Discussions
Give me moar!
Wait, that's it?! I'm just as surprised as you, and the last one is basically done.
New changes happened! Chinese pages got some PvZ2 categories removed. Tennis Star's article will get deleted. Maybe today, maybe tomorrow. Maybe in a year. But it will get deleted. The vote to vote on new categories dropped like a brony's jaw when a new MLP episode comes out. Finally, for the nth time, these two won't be getting a single page. How many discussions will it take?
Weekly poll
For spoiler-free peeps
What do you think about Use Your Brainz EDU?
For those who know... everything (still spoiler-free, kind of)
What is your favorite thing about the following updates?