First of all, the Doombox idea didn't work. It was too hard to maintain those pumpkins.
Anyways, here's my setup.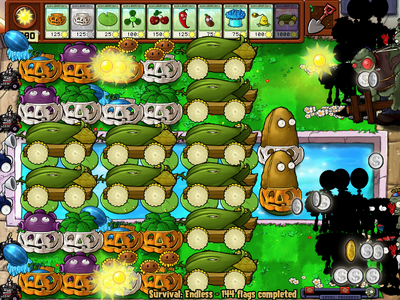 Gigas usually don't manage to smash my cobs when timed correctly. Most Balloons will get blasted by Cobs, and Blover is for backup. The Jalapeno is for dealing with Pole Vaulters (yes, I do occasionally have trouble with them, as crazy as it may seem.) I use an Ice-shroom to keep Ambush Zombies from popping out of the pool. The only plants vulnerable to Bungees are the Tall-nuts, and Cobs take care of those. Right now, the only problem I'm experiencing is not being able to keep up with Pumpkin maintenance, even with the Imitater.
When time allows (no Pole-vaulters or Gigas), if I'm low on sun, I replace the Jalapeno in my lineup with a Sunflower and make a row of them right in front of my Cobs.