Hello! I am selling PvZ Ship Adoptables for you guys. They will be paid in how many points you own.
Things you can do/don't after buying
DO
Use them in an ask account
Give them to a friend
Genderbend it
Change their look
Add accessories
Remove accessories
Change one of the plants in the ship
Change ANYTHING
Draw it in any photos
DON'T
Sell for real money
Sell for more sun than you got it for
Set 1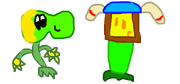 Peaflower
Cost: 400 Sun
Peaflower is the ship child of Peashooter and Sunflower.
Planterang
Cost: 650 Sun
Planterang is the ship child of Plantern and Bloomerang.